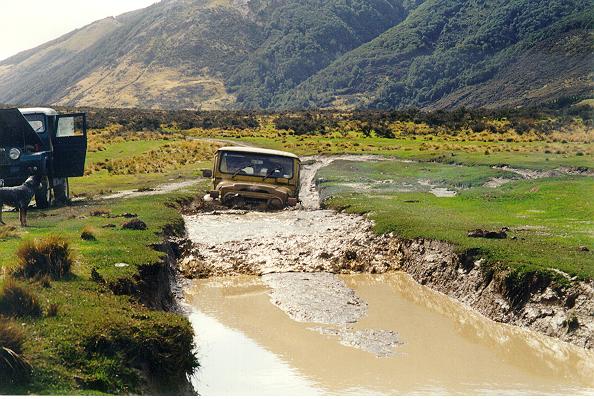 UPDATED February 12, 2001 03:08 PM
New Zealand 4x4.
Please view at full screen......optimized for viewing at 1024x768 pixels.
Hello to everyone far,near or wherever.
On this page we will try and provide links to some of the best four wheel drive sites weve come across on the net along with more photo's and info relating to our own personal trips around the Sth island.
Please understand that this is purely a site that caters for people with similar interests,we doe not claim to provide professional advice.
Any information taken from this site,should be done at your own risk.
Please ask before copying anything from these pages,generally well be happy to assist if we can.
On a more positive note,we would like to encourage visitors to share any thoughts or picture's of interest.We will endeavour to publish what we can in the releavant area's.
Please bare with us as we develop this site,it will undergo changes frequently as material accumulates.
Whilst your here,dont forget to check our main New Zealand page, from there you will find.... Information, Travel, Pics and links to pages that show just what else we get up to down here in New Zealand. Follow the link at the end of this page !
Thanks for visiting, we hope you enjoy.
Email : nz4x4@nz4x4.freeservers.com
About Us ?
Myself and several friends are lucky enough to have been introduced to the 4x4 experience at some stage in our earlier lives and as a consequence seem to have followed along the path and gathered our own array of 4x4 vehicles.
Most of us share other interests as well, the foremost probably being scuba diving. So when were not playing in the Canterbury pool competition, chasing crayfish up and down the coast or organising another fishing trip away, were generally talking about getting away in the trucks for a bit of R&R.
This naturally leads to actually getting away within a few weeks for some off road fun.
So generally speaking we had been searching the net for hints and tips on our various vehicles, we found some great information, pic's of vehicles going through there paces and story's from drivers all around the world. We got speaking one day's canned a few pic's on the PC and believe it or not, here we are.
You'll probably see further on that the Toyota Land Cruiser seem's to be the most popular off road vehicle for serious 4x4,although a couple of friends would argue that point. Everyone thinks their 4x4 is the most competent, although we all find out sooner or later that there are challenges that neither vehicle can conquer.
Of the people whom travel the same path as we, a collection of trucks exist.
We have in our midst :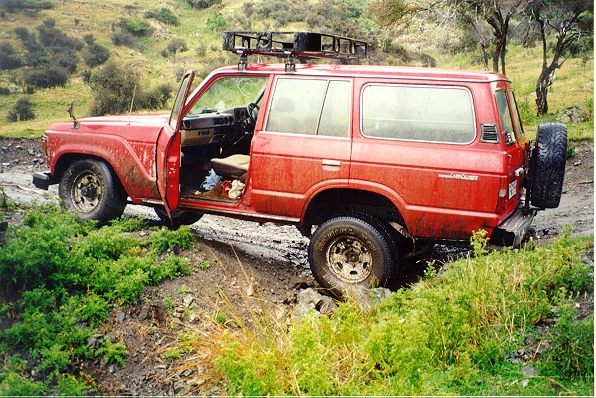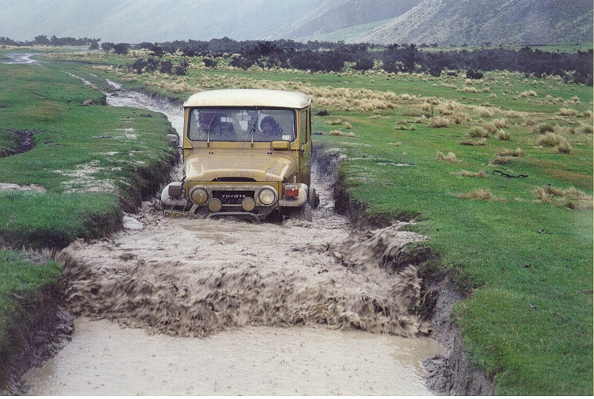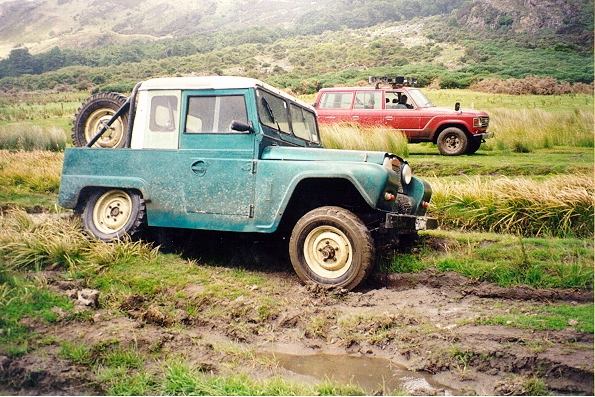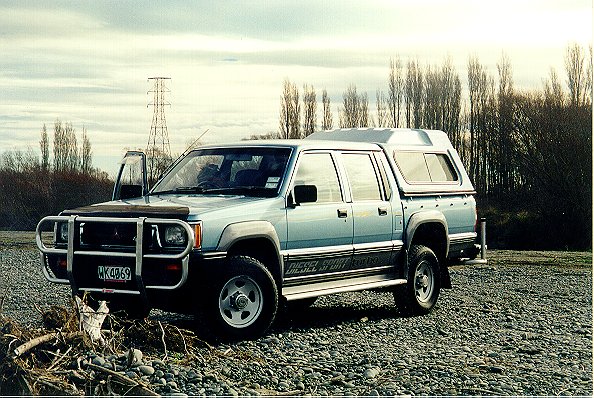 82 FJ60 Toyota LandCruiser 80 BJ40 Toyota LandCruiser 67 Austin Gypsy 97 L200 Mitsubishi Turbo Diesel
A 1984 LWB Nissan Patrol with 6.2l V8 diesel
A 19?? Lada Niva
and a few other Toyota 4x4 ute's etc as used by some friends now and again.
I guess we had better mention that the Toyota Hilux 4x4 is probably the biggest selling 4x4 truck in New Zealand. Oh well, atleast its still a Toyota.
So that's how we came to be here, and how our pictures of trips past and ahead will grace the internet.
HURUNUI DISTRICT LAKE SUMNER STATE FOREST PARK.
Many years ago I was lucky at a young age to experience the outdoors.
My first trips away were to an area known as Lake Sumner State Forest Park. This is an area dominated by rugged mountains, covered in native forest and dotted with several lakes. The area lie's in North Canterbury, inland against the Southern Alps. It is probably one of the closest area's to Christchurch city that offers the 4x4 driver a range of diverse terrain and remoteness shared by only those with 4x4 vehicles and the avid mountain biker.
I must point out that the park is foremost likely used by trampers and a huge number of tracks traverse the park.
Along these tracks are Conservation Department huts, some like the Hope Kiwi Lodge are quite amazing and resemble a house in more ways than a hut, others are more appropriate to the name and offer basic shelter.
And not least of all there are the so-called bivouacs, hmmmm, some of these resemble( and are) nothing more than a fallen tree with a few bare fallen branches lying over the side's.......not the best of accomodation, but better than nothing if caught short of your destination.
The park over the years has supplied plenty of game, Deer, Chamois and Wild Pig mostly.
These were plentiful for the avid hunter, however the introduction of deer recovery by helicopters knocked numbers down during the 1980's. Hunters today will give a more positive expression of game numbers rising. Wild Chamois (goat) and pig in particular im told are present in good numbers within a half days bush walk.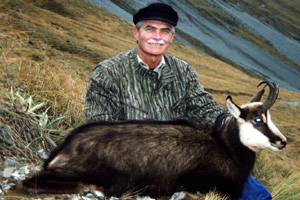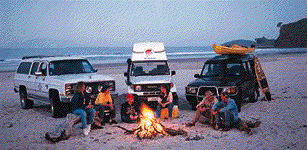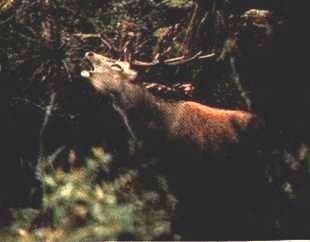 Chamois Beach Recreation Red Deer
The lakes, (sumner being the largest), provide plentiful numbers of brown trout ranging from 1-2lb through to the 6-8lb mark.
Although, ive found that due to the vast array of flying insects over these lakes at the best fishing times, catching these trout requires alot of skill, generally with a fly rod, but spinners do haul the odd fish.
The Hurunui river flows into Lake Sumner and provides another opportunity for fisherman chasing the big salmon.
The Hurunui provides a vast array of fishing spots as it flows towards the east coast, many populated by keen salmon chasers.....this has now become my area of curiosity after giving up on the very well fed trout.
As soon as I manage to land one of these glorious salmon, rest assured its picture will land here.
LINKS TO 4x4 SITES AROUND THE GLOBE
Okay, as we said earlier we have found numerous places of interest around the web that provide all sorts of information on vehicle's, clubs, pic's and so on.
We just cant possibly include them all, but you will find that the ones we refer you thru will usually provide a huge number of links to related site's. For this we thank those site's for all their hard work and dedication, and as some small consolation we think that everyone should visit you, we know we have.
4WD ONLINE
What can we say. I guess it may be because it was possibly the first link I visited but this place has got it all. Our congratulations to the team responsible for this site, well done. There is a huge range of information on this site along with links to just about everywhere. A great source of info on every make/model or variant of 4x4 past and present. CHECK IT OUT!
4x4 NOW
This is a site that we found whilst searching on info for hi-lift jacks. It deals mainly with interest surrounding owners of Jeeps. There are good pages with story's and info on using equipment and 4x4 techniques, but the most content would be dedicated to storys and pic's of trips in and around the State's.
Some interesting media for those fascinated with the extreme end of 4x4 around Utah/Moab safari etc.....well worth a look for the pic's alone. Well Done.
COOL CRUISERS
Found this site in Texas whilst searching for info on Toyota Fj40 Cruisers. This company restores Toyota Landcruisers 40 + 60 series. It offers some interesting advice to the potential buyer of these great trucks along with enhancement products etc.
TOYOTA CRUISER ACCESORIES
This company Man-A-Fre specialise's in all those add-on enhancements you could ever imagine. They deal pretty much specifically with Toyota Landcruisers and lexus.
From here you can find all those products you might want for your Cruiser. There are links to the most renowned 4x4 product suppliers around including Man-a-Fre, ARB, HELLA,Old Man Emu. The products cover all most everything and range from 40-80 series products. Also text based bulletin Board and online chat. (if your after a tire carrier....check here.)
OFF-ROAD.COM
Well, for those whom take an interest in anything off-road...this is the magazine of choice .It has everything from quad bikes to 4x4 trucks and more. If it happens off-road via anything motor powered, you'll find it here. This site also has vast amounts of info on Makes/Models of trucks. Large amount of pictures (and some very good one's). I found that this site gave me the most information on Toyota Cruisers, and a very good FAQ/Tech info by Rob Mullen. Please have a look at this one....its in your favour to do so....WELL DONE.. ANOTHER EXCELLENT SITE.
FOUR WHEELER.COM
An interesting site, some tech stuff and a swag of veiwer's trucks pictured. Well designed site worth a visit.
ONLINE FORUMS Q+A
Wow. If you want to ask somebody anything about your truck/mechanics etc etc etc...check this site out. It has posting boards for most 4x4 vehicles and seems to be very well supported by users. If your'e contemplating a change mechaniaclly or similar to your truck...maybe think about posting a note first....let other's whov'e gone before you answer your questions.
TOYOTA LANDCRUISER ASSOCIATION
If you own a Lancruiser, you really should see these people. Started back in 1976,these people really talk nothing but toyota landcruisers. I personally have benefited from the email based FAQ/ANSWER document that is distributed globally to those interested. If its got to do with the Toyota Landcruiser (or any Toyota 4x4)you'll find the best possible help here. Thank-you from New Zealand.
AUSTRALIA (NSW) 4X4
For those of you in new South wales, this could be the best place to find out more about 4x4 in your area.
W J'S 4X4 PAGE
Okay, not sure who you are buddy, but you have been busy. This page has one of the most complete list of links to 4x4 weve seen. There are lots of documents on mechanical aspects in 4x4 design and some very interesting analysis's of different modification's on 4x4 vehicle's...along with the pro's and con's. For those who seek more info on proposed modification....check this page. WELL DONE W.J


New Zealand Viewers Vehichles
Okay, under this link we'd like to place pictures of people's vehicles from around New Zealand that would like to see their 4x4 on show to the world.
We would like you to provide a small caption describing it's details (make/year/model/etc) and anything else you would like to share.
Now lets face it, here in New Zealand were still catching up with this Internet bizo, so were not going to be biased on make/model or whatever. All we generally ask is that the pic's be clear. (.jpg or .gif)
Of course, the more interesting the shot the better.
And here we go...... VIEWER PICS

INTERESTING TRIPS
If you have a trip or trail that you think other readers may well be interested in, please let us know. Better still if you have taken pic's from these places whilst away wed love to see them. This is where we would like to show other people what they can enjoy here in New Zealand.


BOOKS :
I recently picked myself up a copy of " 4WD STH.ISLAND -77 Off Road Adventures " .
I'd heard it was well worth a read and I must say everyone was right.
The book is written by Ken Sibly & Mark Wilson and published by Shoal Bay Press.
It covers 77 off-road trips from short one vehicle trails in gravel to multiple day, 3-4 vehicle trips in all surface conditions.
I personally did'nt realise there were so many trails and area's set aside for the avid 4x4 driver in my region of Banks Peninsula, so im sure other's are in the same boat.
The first 66 pages or so deal with 4x4 technique, equipment, safety, etiquite and 4x4 modification's. Its a great read for the entry level 4x4 person looking for guidance and beneficial to the rest of us that always think we've seen it before. The trips listed cover the whole Sth Iisland and provide maps, distance's and general info/highlights on each.
I recommend this book to all, atleast pick it up for a glance next time you hit a bookstore.
Well done Ken and Mark.
Just for those that dont know, there is a similar book produced for those in the Nth Island, I just don't have the particulars on it yet.
Back to Main NZ Page (New Zealand Info, More Pic's and pages on our Diving/Fishing trips etc...)
Sign The Guest Book
View The Guest Book
Email To : JGRANT@NZ4X4.FREESERVERS.COM